Overview
Run your business more efficiently with the NEW QuickBooks tablet Point of Sale powered by Revel.
See how the NEW QuickBooks Point of Sale powered by Revel manages your inventory, sales, credit card payments and customer information all in one tablet based system.

Easy end-of-day reconciliation With QuickBooks
Because QuickBooks Point of Sale powered by Revel integrates with your QuickBooks Online, you can automatically reconcile your end of day totals in a snap

Ring sales…even when your internet is down
With "Always On" mode, you can continue to run credit card sales even if your internet is down. Just because your internet stops, doesn't mean your sales have to.

Manage your entire business with a iPad
With QuickBooks Point of Sale Powered by Revel, you can ring up sales, manage vendors and inventory, track customers, and promote your business – all from one system.

Custom configuration for your business
No two businesses are alike. That's why we will configure your QuickBooks Revel POS System with the categories that are unique to the needs of your business.

Secure, EMV ready, Payment Processing
With the most secure payment technology, QuickBooks Point of Sale, powered by Revel gives you the option to swipe or use EMV chip technology to accept card payments.

Online Access From Anytime And From Anywhere
With our Online Dashboard, you no longer have to be in the store to make changes, run reports or track sales for the day. Now you can access your data anytime, and from anywhere.
QuickBooks Sync
Automatically sync sales, customer data, and accounts receivable information with QuickBooks Financial software.
Inventory Levels
QuickBooks automatically updates inventory levels as you sell existing products as well as when you restock.
Track Customers
Want to know who has purchased what? QuickBooks POS stores all your customer information and purchase data.
Barcode Scanning
Quickly and easily scan inventory received or products sold so that your stock on hand is always up to date.
QuickBooks Point of Sale powered by Revel. Your complete management tool for retail, restaurant and QSR.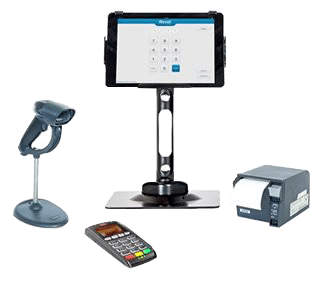 Pre-configured for you right out of the box
With QuickBooks Revel Point of Sale's pre-configured hardware, getting started couldn't be any easier. Just take the system out of the box, follow the simple "plug and play" instructions and start running sales. We provide all the hardware, software and support you need to get your single location business up and running fast.
Inventory management made easy
Now you can manage extensive inventory and access all your items from one easy screen with the QuickBooks Revel POS Matrix Inventory feature. This allows you to save time by avoiding manual counting of items and helps lower costs by alerting you when it is time to restock and by how much. Because everything is cloud based, there is no need to be in the store to make changes, update inventory or run reports. Just log in to the back end user interface from any internet connected device and go!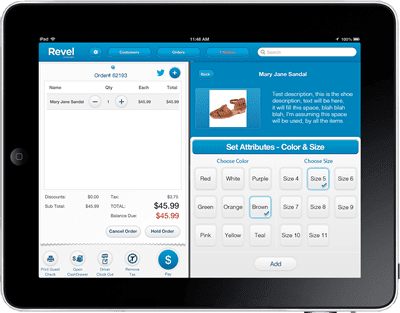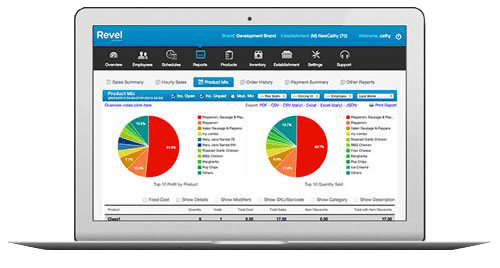 Sell what your customers want with no more guessing
Easily keep track of detailed customer information and and what you customers favorite products and services with the built in Customer Relationship Management (CRM) management console. The QuickBooks Revel CRM uses advanced technology to organize and synchronize customer information with their buying behavior so as a business owner, you can analyze each customer's order history and better tailor your key products, sales, and offerings based on what your customers actually want.
Never miss a sale with the always on feature
Now you can continue to process payments and orders during even when the internet slows down or there is a complete outage. The QuickBooks Revel Point of Sale hybrid architecture enables your iPad POS to run on a local network completely uninterrupted by network issues. Once your system comes back on line, data will automatically re-sync with the cloud. This "offline mode" feature is unique to Revel and works so seamlessly, you may not even know that your internet was even down.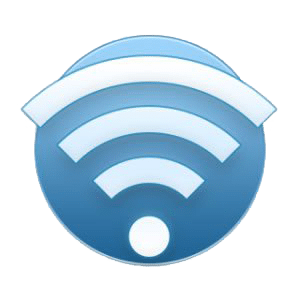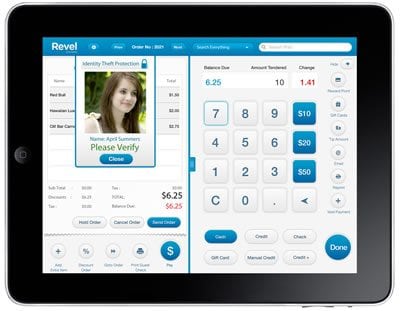 End-to-end encrypted payment security
Every time a credit card is swiped through a QuickBooks Revel Systems iPad Point of Sale, information is encrypted ensuring card data won't be intercepted or stolen. Because the data is encrypted immediately, you can rest assured that your customers data is safe against standard hacking and fraud techniques. Additionally, all QuickBooks Revel card readers come fully encrypted with a AES 256 payment encryption key and the system meets the most current PCI DDS 3.0 requirements.
Total integration with your QuickBooks accounting software
Using QuickBooks' Revel powered POS allows you to leverage QuickBooks integration to improve business efficiency and once and for all eliminate having to manually enter sales information at the end of the day. Because your data is automatically synced from the QuickBooks Point of Sale to your QuickBooks Online Accounting software at the beginning of every day, you always get the most current view of your business stats in addition to saving time, effort and eliminating costly errors.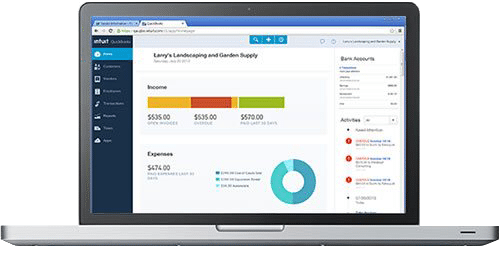 Compare
The QuickBooks Point of Sale lineup at a glance
Whether you're just starting out or your business is growing, there's a QuickBooks Point of Sale that fits your needs. Learn how the new QuickBooks Cloud Point of Sale compares with QuickBooks Desktop Point of Sale.
| | QuickBooks POS Powered By Revel | QuickBooks POS 12.0 Desktop |
| --- | --- | --- |
| Ring up sales within Point of Sale | Yes | Yes |
| Automatically track inventory as you sell and receive items | Yes | Yes |
| Offer discounts, returns, store credit and gift receipts | Yes | Yes |
| Use a bar code scanner to ring sales | Yes | Yes |
| Track customer contact and purchase info | Yes | Yes |
| Includes built-in sales, customer and inventory reports | Yes | Yes |
| Create and manage staff access to Point of Sale system | Yes | Yes |
| Include pictures of inventory items | Yes | Yes |
| Track multiple vendors, UPC codes and serial numbers | Yes | Yes |
| Customize price tags, receipts and more | Yes | Yes |
| Generate purchase orders automatically at pre-set inventory levels | Yes | Yes |
| Built-in tools to update prices and create discounts across products and departments | Yes | Yes |
| Track multiple vendors, UPC codes and serial numbers | Yes | Yes |
| Create and save customized reports quickly | Yes | Yes |
| Consolidate multi-store data into one file | Yes | MulitStore Version Only |
| Access to sales and inventory reports for each store location and at the "Company" level | Yes | MultiStore Version Only |
| Track inventory transfers between stores | Yes | MultiStore Version Only |
| Drill-down capability for sales and inventory by store location | Yes | MultiStore Version Only |
| Set up a Intuit Merchant Account that lets you accept credit cards right in your software | Yes | Yes |
| Integrates seamlessly with QuickBooks Online accounting software | Yes | No |
| Integrates seamlessly with QuickBooks desktop software | No | Yes |
| Easy to use iPad Interface and Cloud Software | Yes | No |
| Take credit card payments with Always On Mode even if there is an internet outage | Yes | No |
| Online access anytime, anywhere means you can be anywhere and still manage your business | Yes | No |
| Pre-Configured Tablet POS with no software installation required | Yes | No |
| Latest software versions and updates delivered seamlessly | Yes | No |