QuickBooks Enterprise 2020 – all the information you need in one place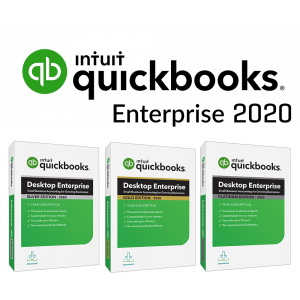 Welcome to our QuickBooks Enterprise page. QuickBooks Enterprise is the top level of the QuickBooks family of desktop accounting products. Enterprise runs up to 6 times faster than QuickBooks Pro or Premier and can hold much more data.
We are the go-to experts if you need some help determining which QuickBooks is best for you. Speak with one of our QuickBooks Pro Advisors/Accountants who have the knowledge to help you with your purchasing process. If you need help or are ready to purchase contact us today.
Buy QuickBooks Enterprise: Call us for special offers. Call +265999286696 
to place your order or get answers to your questions.
*Subscription requires a one-year annual commitment. Annual renewal requires a 12-month commitment. Call us for more details and to speak with an expert.  We also offer Fast Track services to get you up and running at lightning speed! Place your order with us and we will spend 1 hour with your staff introducing them to the new Advanced Report Writer embedded within QB Enterprise. **Enterprise is sold on a 3 tiered annual subscription. The three levels are Silver (noted above), Gold and Platinum. The price above is your monthly cost. Annual payments are also available, call for more information.   The annual renewal price listed above represents current pricing and is subject to Intuit pricing policies. 
Which Level should you select? Silver, Gold, and Platinum
Features Included:
Silver
Gold
Platinum
Full Service Plan**
x
x
x
Advanced Reporting
x
x
x
Enhanced Payroll
x
x
Advanced Inventory
x
Advanced Pricing
x
**Full Service Plan Benefits:
US based customer support
Online Backup Service
US based technical support
Data Recovery Service
QuickBooks Enterprise upgrades
In-depth Online Video Training
QuickBooks Merchant Account with discounted rates
FREE when you purchase QuickBooks Enterprise Solutions here:
FREE 12 months Free Enhanced Support from an Intuit (creators of QuickBooks) account support engineer, and unlimited support incidents.    Your QuickBooks Enterprise support engineer is ready to answer how to questions about QuickBooks including how to customize reports to your needs plus show you how the  new ODBC data access feature can enable you to create custom reports from your QuickBooks data using applications such as Crystal Reports, Microsoft Excel and Access (these applications sold separately). 
FREE 12 months Free Technical Support from an Intuit support engineer, and unlimited support incidents.   Your support engineer is ready to help you with installation issues, connectivity issues, and data protection issues. In fact, if you encounter problems with your QuickBooks Enterprise Data, they will help you fix the problems/recover the data.  This service by far- Data Protection Services – offers tremendous peace of mind.  How about those lost or forgotten passwords? Admin users can ask for help after verifying registration information.
FREE Data Conversion Service From an Intuit  Data Conversion Team.  If you are running an older version of QuickBooks or switching from a mid-market software package such as Great Plains, SAGE 50, SAGE 100 or pretty much any other legacy software to capture the BIG SAVINGS on annual software renewal costs,  the Intuit Data Conversion team is on hand to get your new file started. We have Certified QuickBooks Pro Advisors with experience in converting mid-market accounting packages and Accountants who can step in and help you gather the information needed by the Data Conversion Team (additional fees may apply) for import into QuickBooks Enterprise Solutions. Starting a new software can be a daunting business, but with guru level QuickBooks Enterprise advisor's help we can make this transition a much easier process (additional fees may apply). 
FREE  Access to comprehensive QuickBooks video training.   A K350,000.00 value, Mastering QuickBooks Enterprise Solutions.  This video training is a fast, easy way to learn QuickBooks.
FREE  Manual -QuickBooks Enterprise-The Official Guide.   One for every QuickBooks User -a K150,000.00 value for each.  A terrific resource for all your QuickBooks Enterprise users – E-Book for each user.  This manual offers screenshots with step by step instructions. 507 pages of expert advice, tips and how to master QuickBooks Enterprise – a great way to review what features are included with QuickBooks Enterprise
FREE  Intuit Statement writer, a professional report writer! A  K300,000.00 value.
FREE  12 months of upgrades, including the new 2020 QuickBooks Enterprise Solution edition if released within 12 months of purchase. 
FREE  One year subscription to Intuit Data Protect 100 GB of free online backup storage for 45 days worth of backed up information.. Your data is stored in a private, secure and encrypted format at two separate locations. All Free services remain free with your annual renewal of the full-service plan and you never have to pay for QuickBooks Enterprise new versions again, they are included at no additional cost in your Full-Service Plan Renewal.
Why QuickBooks Enterprise?
QuickBooks Enterprise Solutions is the most feature-rich edition of QuickBooks for companies with greater needs. QuickBooks Enterprise offers advanced inventory capabilities, enhanced reporting options customization, sophisticated inventory capabilities, more tools to increase productivity, 107 more options to control user access to only what they need to do their job, a more robust database with room to grow, and full-service support and upgrades included the first year, and a cost-effective plan to keep you in the latest version every year.