QuickBooks POS Deals & Special Offers
Sign up for a QuickBooks Payments account and get up to 40% Off MSRP plus a free POS hardware. With a QuickBooks POS Payments account you can accept credit and debit card payments from your customers seamlessly within QuickBooks POS! And, there's no long term contracts (month to month).
Shop QuickBooks POS Categories
QuickBooks Point of Sale offers everything you need to build your retail business, from easy to use, yet powerful retail POS software, integrated POS hardware, and built-in payment processing. Shop our exclusive low prices on QuickBooks POS software, retail bundles, compatible POS hardware, and supplies. QuickBooks POS software comes in three feature packed editions: Basic, Pro, and Multi-Store. Each edition does allow you to transfer sales data to QuickBooks Financial software (sold separately), track customers, ring sales, and update your inventory. For more advanced inventory management features such as pictures of inventory items or auto-generated PO's, you'll need Pro or Multi-Store
Fast, easy, integrated POS payment processing with low rates
Protected Payments
QuickBooks POS is EMV ready and designed to help support updated payment technology for greater data protection
QuickBooks Desktop Integration
When you accept a payment, process a sale or update your inventory, QuickBooks POS updates your books helping you save time, effort, and potential errors.  Plus, you'll be better prepared at tax time.
At the end of your sales day, you can have QuickBooks POS sync with QuickBooks Desktop (sold separately) reducing double entries so you save on both time and errors. This keeps your books updated all year long so that when tax time comes, you'll be ready.
How It Works
QuickBooks POS software is your one-stop way to ring sales, accept credit cards, manage vendors and inventory, and build customer relationships.
Fully featured Desktop Point of Sale System
Handles sales, inventory and customer tracking
Saves time with multi-tasking, sorting, and shortcuts
Seamless credit card processing with QuickBooks Payments
Integrates with QuickBooks Desktop Financial (Pro, Premier, Enterprise)
Scalable to handle large, multi-location retailers
Manage Inventory
Your inventory is updated with every transaction giving you a sightline into what's hot and what's not.  You'll learn what your bestsellers are, what needs to be reordered, and what you could do without.
You'll see in black and white exactly what your customers are buying- or not buying- so you can adjust your product mix to better serve them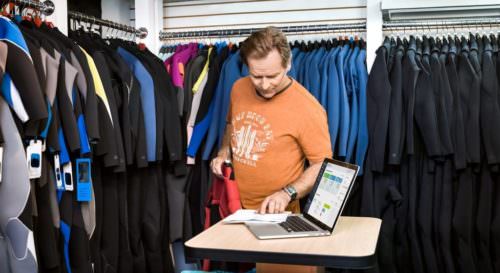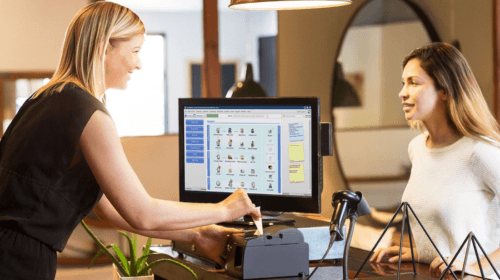 Make Sales & Accept Payments
Ring sales the way you want to:  Use an optional barcode scanner, or enter item names or numbers manually using a PC or tablet.  You can also start the CRM process right at the point of sale, offering discounts and adding customer information so you can get to know your customers better.
Authorize, process and record credit or debit card sales in just one step in your QuickBooks POS system. With no need to enter information twice, your accuracy is greatly increased. You can handle transactions more quickly and move customers through check-out more efficiently! QuickBooks Point of Sale is also EMV ready and designed to support payment technology for greater data protection.
Works With Tablets
Why be tied to a desktop computer at the counter when you don't have to be? With the Microsoft Surface® Pro, you can pick up and move when you want to. Need to check inventory in the back room? Want to run reports or do accounting tasks someplace else in the store — or at home or in your hotel room? Desktop Point of Sale with the Microsoft Surface® Pro let's you so all that with ease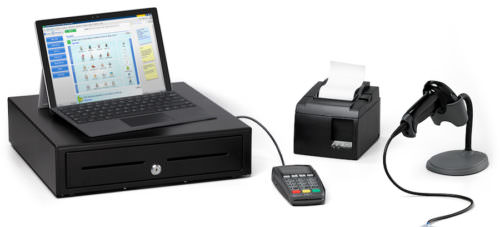 Manage Customers
Take CRM to the next level.  See customer history like balance owed, credit available, loyalty program status, and special offers at the top of your transaction screen every time you ring up a sale.
Compare Which QuickBooks POS Edition Is Best For You
QuickBooks POS Desktop 10.8 Features
Save time with Faster Performance: 10 x faster startup time & faster workflows9
Improved Keyboard Shortcuts
Allows better screen readability with improved visual design
Multi-Task by working on different parts of the program (i.e. sales receipt, checking reports, etc.)
Support for backing up files with sizes greater than 4 GB
Sorting in Key Workflows such as: Ring a Sale, Received Items, Returned Items
Create and save customized reports quickly
Includes over 50 built-in sales, customer and inventory reports
Set up a payments account (Merchant Account) that lets you accept credit cards right in your software2
Use a bar code scanner to ring sales
Answer a few simple questions to start
Ring up sales on your smartphone or tablet (iPad®, iPhone®, Android™) 3
Sync sales & Inventory information from mobile device with QuickBooks Point of Sale software
Import inventory items from Microsoft® Excel®1
Automatically track inventory as you sell and receive items
Transfer sales data to QuickBooks Financial software6,7
Track customer contact and purchase info
Import inventory items from Microsoft® Excel®1
Import customers' files from Microsoft Excel1
Create customer letters easily with Microsoft Word® integration4
Synch customer data and accounts receivable with QuickBooks Financial software6
Use data from the Customer Center to improve your business decisions
Import vendor information from Microsoft® Excel®
Create and manage staff access to Point of Sale system