Overview
Get all the basics you need in a point of sale system for
small businesses.

Ring up sales
Ring sales with an optional barcode scanner, or just manually enter item names or numbers.  Add discounts and build customer information for contact management.

Integrated Payments
Accept credit cards right in QuickBooks POS as well as on the floor with any internet based mobile device and watch inventory update automatically.

Manage Your Inventory
Now you can track inventory as you sell and receive items and use the data to pinpoint what products are hot and which ones are not.

Track and reward customers
QuickBooks POS Basic keeps you on top of every aspect of your business with the flexibility to customize reporting for sales, inventory as well as customer purchases.

Syncs with your QuickBooks
When you accept a payment, process a sale or update your inventory, QuickBooks updates your books helping you save time, effort, and potential errors.  Plus, you'll be better prepared at tax time.

NEW!  Works with Microsoft Surface Pro
Pick up your point of sale system and move around your store when you want to update inventory or do other back-office tasks. Modernize the look of your store and save counter space with Microsoft Surface® Pro 4.
See what's new in QuickBooks Point of Sale 2018
Acccept Payments
Learn how easy it is to accept payments right in QuickBooks Point of Sale.
Make A Sale
From start to finish, making sales with Point of Sale is as easy as it gets.
Working With Inventory
Add, manage, and keep track of all your inventory – all in one place.
Features
QuickBooks Point of Sale. Your complete retail management tool.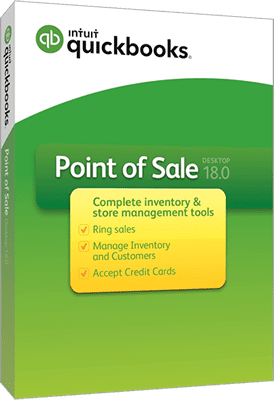 The right product for your business
QuickBooks Point of Sale will grow with you and your business. It is the customizable solution for retailers that are serious about maximizing their sales and profit. You can easily ring up sales, accept credit cards, manage inventory and track customers all in one place.
Make selling simple
With QuickBooks Point of Sale software, there is no need to have separate systems for inventory, customer management, and payment processing. Everything you need from start to finish is in one place working seamlessly for you.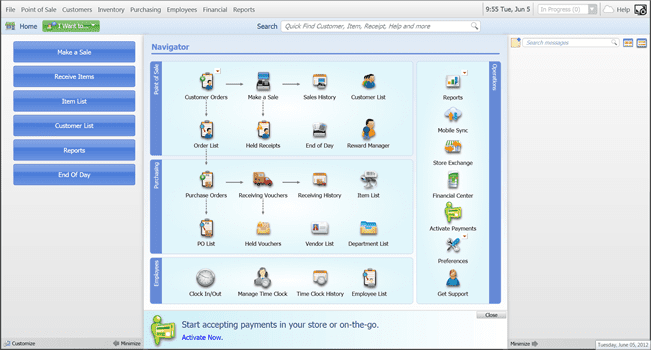 Detailed, up to the minute stats
To know where you need to go, you first have to know where you are at. That's why QuickBooks Point of Sale allows you to run up to the minute reports on customers, inventory on hand, vendors and even reports on what items are selling the best and who is buying them. All in just a couple clicks.
A complete end-to-end POS system
With QuickBooks Point of Sale, you can build a point of sale system that works perfectly for you and your store.  You can start with just the software, expand and add specific components as you go or set up the full system from the beginning.  Either way, QuickBooks Desktop Point of Sale has everything you need to ring sales, accept payments, track inventory, and more.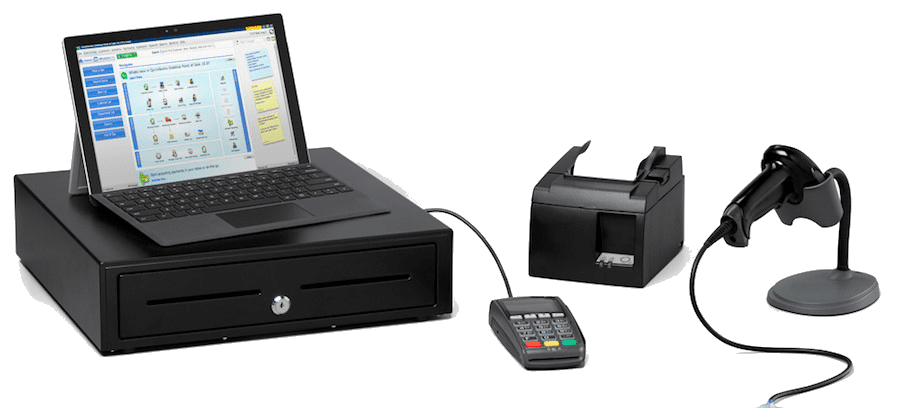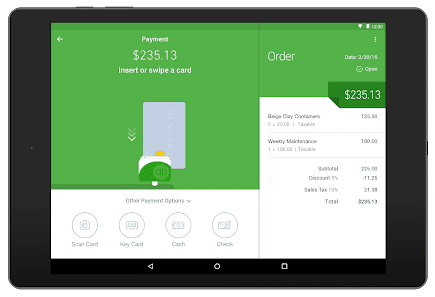 Make sales wherever your customers are
Why have to wait for customers to come to you when you can go to them? When you activate the payments feature you can not only accept payments in QuickBooks Point of Sale, but you can use any iPhone, iPad or Android device to ring up sales on the floor, in the field – anywhere. The best part is at the end of the day, all sales and inventory information syncs back with your POS system.
Works seamlessly with QuickBooks Accounting
QuickBooks Point of Sale updates your books everytime you take a payment, process a sale or update your inventory, saving you time and effort. There will be less room for manual errors and you'll be ready at tax time.